Pour amateur de HiFi Haut de Gamme à Tubes et mélomane exigeant.
For, top of the range HIFI tubes, connoisseur or very music lover.
Rare et légendaire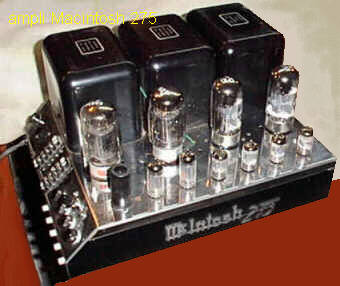 Ampli McIntosh 275
avec son préampli séparé McIntosh C22
L'ampli:
Il s'agit d'un classique MC275, version d'origine, de 1973.
It is about the classical McIntosh MC275, original version year 1973.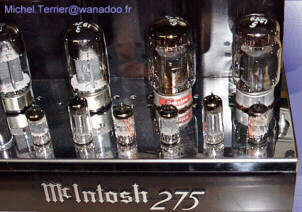 Il est en parfait état de fonctionnement.
Le son légendaire de ces amplis est bien là. Une présence incroyable, une définition extrême, aucun bruit de fond.
It is in perfect state of functioning. The legendary sound of this amplis is there. An incredible presence, an extreme definition, no background noise.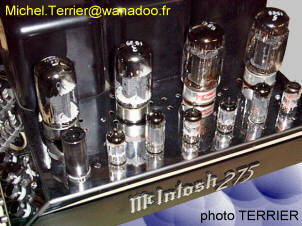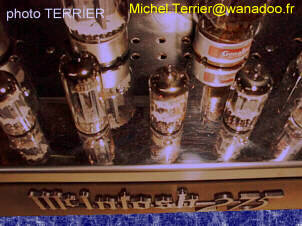 ---
Le préampli:
Fonctionnement parfait.
Perfect service.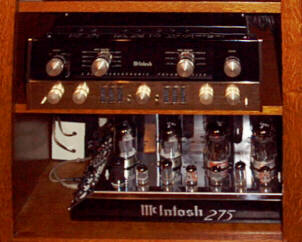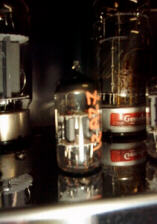 Suivi technique:
Ampli:
J'ai changé 2 condensateurs de filtrage et 2 diodes redresseuses.
Les tubes sont neufs ou sévèrement testés au lampemètre METRIX.
préampli:
Tubes neufs ou extrèmement testés (appariés si nécessaire) au lampemètre METRIX
changé redresseuse filaments par 4 BY255
changé un condensateur de filtrage
changé 4 condensateurs de découplage
testé les autres condensateurs.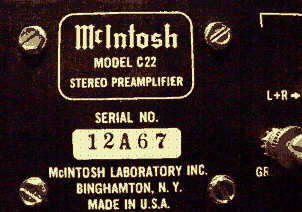 ---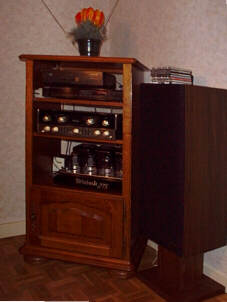 ---
Caractéristiques techniques:
Les amplis McIntosh, existent depuis 1947, un brevet fut déposé par Franck McIntosh.

D'abord ces amplis utilisèrent comme tubes de puissance de 6L6, puis des 7591, puis des KT88.
La qualité de ces appareils réside dans le soin apporté à la fabrication, dans le surdimensionnement des transformateurs et surtout dans un système de contre réaction dans les transformateurs de sortie (c'est le brevet de Franck MacIntosh).
Selon Jean HIRAGA, directeur de la Revue du Son. Le modèle MC275 reste une référence mondiale.
Le MC275 fut créé en 1961, et vendu dans les années 1961-1970.
Sa fabrication fut reprise de 1993 à 1996.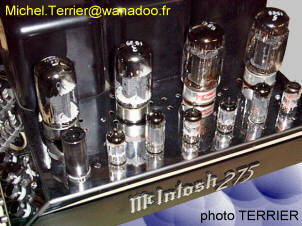 ELECTRICAL: 75w/ch stereo, 150w mono. Response 16-40kHz (+0 -0.1dB). Distortion 0.5%. Noise & hum -90dB. Output impedance 4, 8, 16, 67 and 600 ohms. 600 ohm center tap internally grounded. (2, 4, 8, 16 and 32 ohms in mono). Output voltages 25V (isolated), 70.7V (one side grounded) and 230V (center tap grounded). Internal impedance less than 10% of rated impedance. Input impedance 250k. Input sensitivity: 0.5V (in mono or twin amp). 2.0V in stereo.
MECHANICAL: Chrome chassis. Line output octal socket for higher impedances and voltages. Barrier strips for 4, 8 and 16 ohms. Audio inputs: stereo, twin and mono. Gain controls: twin amp, balance and mono. Input switch: stereo, twin amp or mono. Can be used for 150w mono. Line voltage switch: 117 or 125V.
TUBES: 4-KT88/6550 output, 12AX7, 2-12AU7, 2-12AZ7, 2-12BH7. Solid state rectifier bridge.
Size 8"H, 12-1/4"W and 17-1/4"D. Weight 76 lb. Sold from 1961-1970. Last retail price $444.00
En 1993, McIntosh a réédité le MC275 classique, pour commémorer la carrière de l'ancien président et le PDG de McIntosh, Gordon Gow.
1993

ELECTRICAL: 75w/ch stereo, 150w mono. Response 20-20kHz (+0 -0.2dB). Distortion 0.5%. Noise & hum -100dB (A weighted). Output impedance 4, 8, 16 ohms. (2, 4, and 8 ohms in mono). 25V line. Damping factor greater than 10. Input impedance: 100k unbalanced, 180k balanced. Input sensitivity: 1.0V unbalanced, 2.0V balanced.
MECHANICAL: Barrier strips for 4, 8 and 16 ohms. Audio inputs: unbalanced and balanced. Input switch: bal or unbal. Mode switch: mono or stereo. Gain controls. Can be used for 150w mono.
TUBES: 4-KT88/6550 output, 3-12AX7A, 4-12AZ7. Solid state rectifier bridge. Chrome chassis.
Size 7-1/2"H, 12"W and 16"D. Weight 67 lb. Sold from 1993-1996. Last suggested retail price $4000.00
---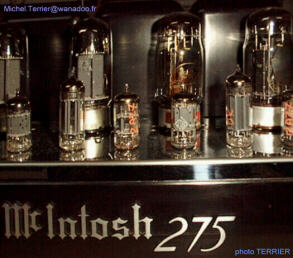 ---

(cliquer la flèche pour retourner au sommaire)Click the arrow to return to the summary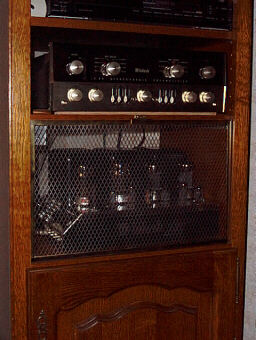 Music for peace and love...
Il n'est pas à vendre...
Not for sale...
Pour réparer un McIntosh :
Patrice HASSEN
DAVID sarl
02 Rue des Champs
92603 Asnières sur seine cedex FRANCE
TEL : 01.47.33.15.25.
FAX: 01.40.86.95.44.
---
Fin MAJ 15 Juin 2015 (Mobile Friendly)